How to install SecureKids parental control app 08/10/2015
We have already mentioned in this other article how to use in the best possible way and make the most of the web control feature of SecureKids. In future articles or posts on this blog, we'll talk about other functions which this SecureKids tool has. In this article, I would like to explain how to install and run this parental control tool in the devices of minors, and how you parents should use it.
I have to be honest, installing this tool is not as easy as using it, as it requires certain permissions to control the device from our web panel, if it were up to me, I'd make it easier, but in that case anyone would be able to take control of our children's devices, and WE DON'T WANT THAT! However, what we do want is to keep the maximum safety possible, and to do that it's necessary to follow these steps required by Securekids.
Create an account on SecureKids
To create an account you only have to go to our website securekids.es and click on the top bar Login / Sign up, Once you clicked, you have to fill in the form on the right side to create an account.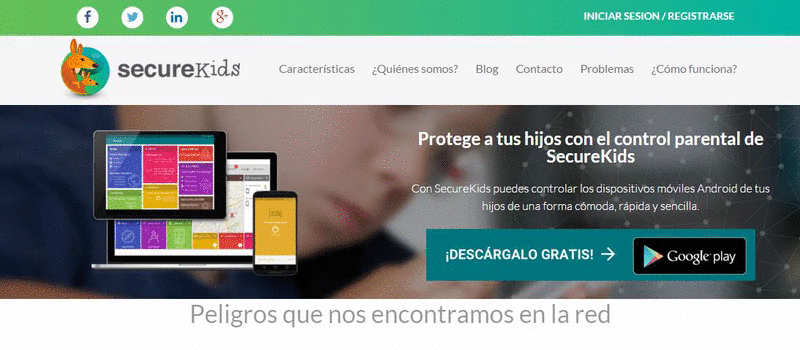 Install the app in your child's device!
To install the SecureKids app you only need to go to Google Play and download our app looking up SecureKids, or you can download it from here ;).
By Grupo Deidev
v0.23 10MB
50.000 - 100.000
Warning! This installation has to be done only on your child's smartphone or tablet, never on the parent's device, if you install it on the parent's device you will block the content in your device and not in your children's.
Log in on the SecureKids app
From your child's device, go to the installed SecureKids app where you can log in using the same user account and password you used before to sign up on the website.
Once you're logged in, a message will show up asking to synchronize the device with your account, you have to do it. Once done, you'll get to your account where you can add a child device tapping on the + button, located in the lower right side. Here you can name your child's device to differentiate devices in case you have more than one child device and want to apply any settings in any of them.
Done, GREAT!
Access to the web panel
Go to our website securekids.es and log in, from here you can manage all the information and content your children can or cannot access, decide which apps they can use and set alarms so your children don't forget anything. Besides many other options and features you can manage with our parental control.
Well folks, this has been everything for today, as you know how to download our parental tool control, you don't have any excuses to not use it, even if it's just a test ;).
As I guess you already know, SecureKids is free, so go to Google Play and download it, it will take you a couple of minutes and you will manage this tool in a comfortable and simple way so your children can surf the net in a safe way and without risks. If you already installed it, you can rate us or leave a comment on Google Play helping other users find it and reach more people 🙂